THE BOX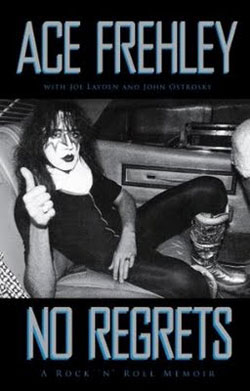 Former KISS man Ace Frehley is writing the second part of his life story. Frehley is not only recording a brand new studio album, but he's writing a follow-up to 2011's No Regrets: A Rock and Roll Memoir.
"Writing that book opened the floodgates and put me in contact with a lot of people I haven't spoken to in a while," Frehley tells The Oakland Press. "A lot of stories came up I had forgotten about, and there were a lot of stories I came across too late.
"I've spoken with a couple of my old bodyguards, roadies and stuff; they helped me with the first book and they're helping with stories for the second book, too.
"I'm having more fun now than I was way back then because now, in a sober state, I remember what I do," he added. "That's a nice feeling…
View original post 49 more words